Cummings Properties employees can reach right out the lunchroom window for fresh basil while patrons of the Revere Hotel can swim outside seven stories up! Here are five ways Greater Boston businesses are taking their rooftops to new heights.
1. Incredible Edible Landscape
Cummings Properties team members flexed their collective green thumb to create a small garden on the roof of the Woburn-based commercial real estate firm's corporate office.
2. Swimming in the Clouds
Boston's Revere Hotel boasts one of the most coveted rooftop pools in Massachusetts. Complete with cabanas and cocktails, this heated pool seven stories above Back Bay is a great place to make the most of the short New England summer.
3. Get Blown Away
A popular addition to the Boston skyline is producing significant educational benefits and valuable data for the Museum of Science. In 2009, Boreal, a renewable energy company, worked with the Museum to develop its WindLab, installing five different types of wind turbines.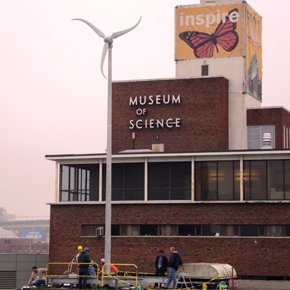 4. Hit the Deck
Guests at the Residence Inn Boston Back Bay/Fenway can enjoy cocktails and amazing views of historic Fenway Park from this spacious and inviting rooftop deck.
5. Let the Sunshine In
Cummings Center in Beverly has a 460-KW solar array—more than an acre in size!—atop its Northeast Parking Deck. It produces 500,000 kWh annually, which is enough to power 41 million iPods.
Bonus: A Ruff Idea?
Although located at City Market at O in Washington, DC, this dog park on the roof of an apartment complex is the perfect amenity for both Boston pet-lovers and their canine companions.