Andover's River Road district is well known as a thriving suburban business center in Massachusetts. Conveniently located in the heart of the Merrimack Valley, Andover provides access to major highways, green space, and plenty of desirable amenities. If you're looking to lease a new office space, medical space, or lab space for your business, here are a few reasons to consider Andover.
A convenient commute
With so much of the day consumed by work, a painless commute can make all the difference in giving your staff a sense of balance. Andover is a short drive from the border—and broad talent pool—of Southern New Hampshire. It's also just north of I-495 and abuts I-93 at Exit 45. With access to public transportation and major highways, Andover is a prime location for commuters hailing from around the North Shore of Boston as well as Nashua, Windham, Pelham, and Salem, New Hampshire. The expansive recruiting area offered by an Andover office could help you to secure your ideal workforce.
Affordability
In today's world, the cost of doing business can quickly skyrocket even before you've opened your doors. Commercial real estate in Andover is a cost-effective alternative to similar spaces in nearby Boston and Cambridge, where rent can be as much as three to five times higher. In order to dedicate more of their dollars to growing their operations, many business owners are opting to lease space in suburban communities over costly spaces in the city.
A central location
Proximity to major cities and transportation routes can position your business to flourish. Andover is a short 40 minutes to Boston and 30 minutes to Nashua. Its direct access to Interstates 93 and 495 will make it easy for clients, vendors, and other visitors to reach your business. And your traveling employees or out-of-state guests will enjoy quick trips to Boston's Logan Airport or Manchester-Boston Regional Airport in New Hampshire.
Adjacent to amenities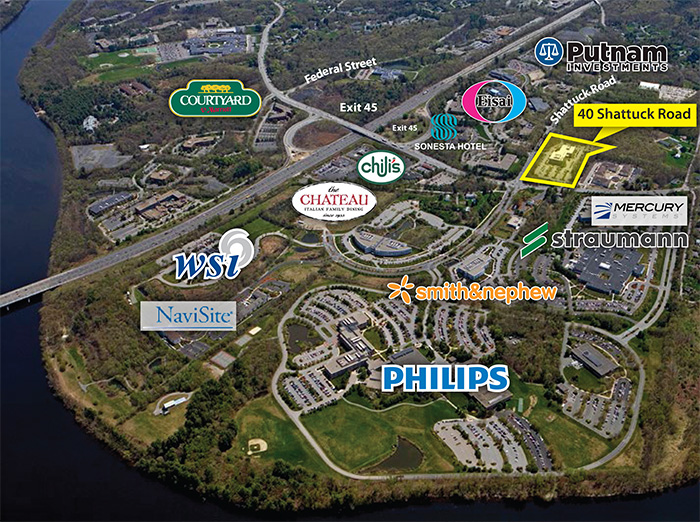 Andover's business district is within reach of hotels, restaurants, and cafes. The Château, Chili's, Sonesta Hotel, and Courtyard by Marriott are just a handful of the dining and lodging options available. There are also nearby daycare facilities, and the ample green space and scenic views along the Merrimack River make it an appealing site for employees and visitors. Cummings Properties' 40 Shattuck Road building also features on-site food and fitness options for building clients.
40 Shattuck Road offers office and lab space in a modern 120,000-square-foot building located on the corner of River Road, across from the Minuteman Park campus. Its three stories are wrapped in ribbon windows, and the attractive property offers manicured grounds and ample parking. 40 Shattuck Road is also home to a new on-site gym space and self-service micro-market.