The greater Boston area is a veritable treasure trove of commercial real estate opportunities for companies of all sizes. Suburban properties, in general, are experiencing a surge in interest, and Woburn remains a prime candidate for firms looking to spread out in the suburbs. If you are looking to lease a new office space, lab space, or medical space, here are a few reasons to consider Woburn.
Centrality
Woburn's central location in the greater Boston area can set any business up for success. A short drive outside of Boston proper, Woburn is strategically positioned along both I-93 and I-95. These major highways make it easy for employees, clients, vendors, and other visitors to reach the suburb and any businesses therein. Even visitors from out-of-state will find something to appreciate with a quick 15-minute journey from Logan Airport.
Commutes
Commuting to a major city center can be a hassle. There has never been much appeal in clogged highways and cramped subway cars. Suburban commutes are often far easier on employees, who frequently appreciate being able to work within or close to the communities where they have chosen to live. By leasing in Woburn, firms open themselves to expansive suburban talent pools of professionals hoping to avoid the stresses of big city traffic.
Variety
Every company requires a space to call its own. Some need offices, others need warehouse space, while others still need clean rooms or biotech labs. Leasing clients in Woburn, particularly within Cummings' portfolio, have access to a wide variety of spaces that can meet any need. Clients of all industries and sizes can select from among upscale office suites at TradeCenter 128, build-to-suit laboratories on Commerce Way, and industrial buildings on New Boston Street.
Value
Working in the city can be as expensive as living there. In the wake of COVID-19, the commercial real estate market is experiencing a shift in favor of suburban property, in part because companies can secure more square footage (to facilitate social distancing) for the same or a lower rate. Cummings Properties' Woburn locations are especially client-friendly, with rates often one-half to one-third of similarly sized spaces available in Boston and Cambridge.
Amenities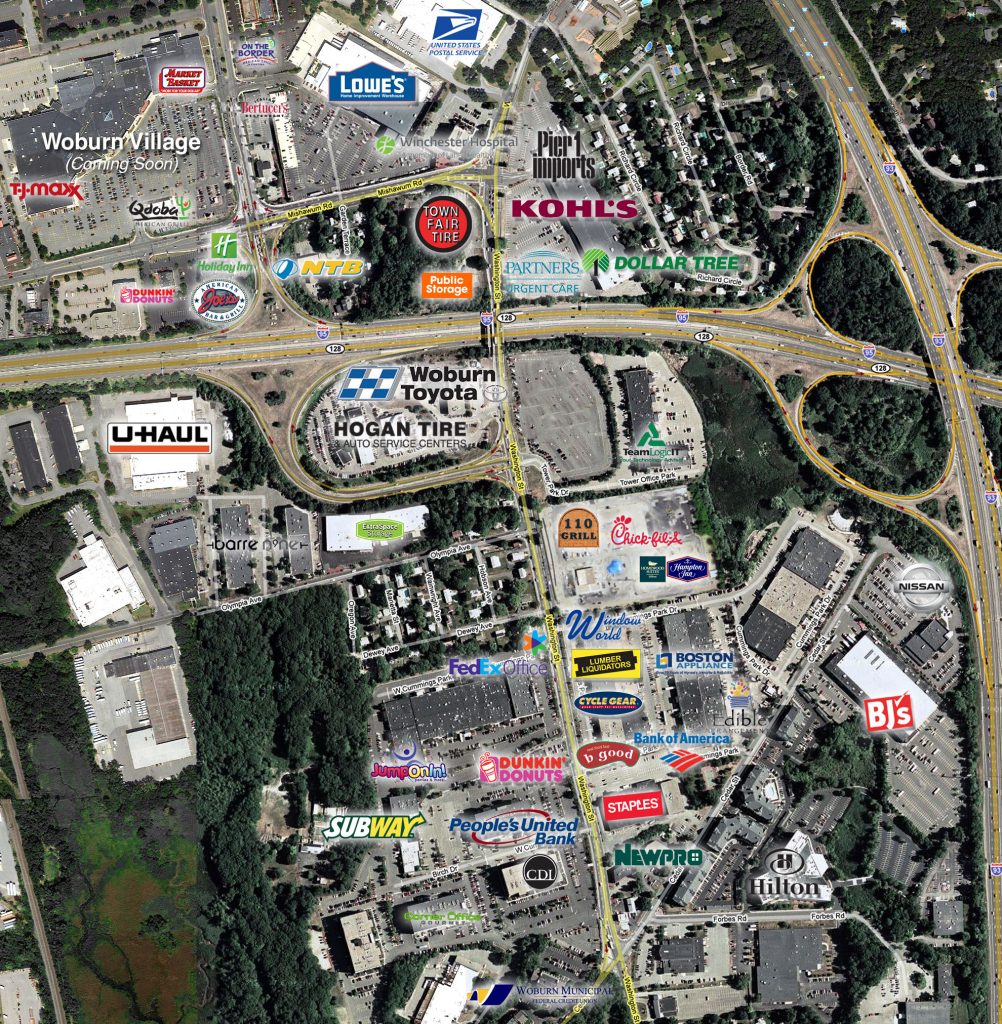 Woburn, particularly the area surrounding Cummings Park, is densely populated with restaurants, hotels, and shops. B.GOOD, Starbucks, 110 Grille, Bertucci's, Homewood Suites by Hilton, and Hampton Inn are just a small selection of the dining and lodging options available within close proximity to both Cummings Park and the major highways. The nearby daycares and storefronts only further the area's appeal to prospective employees and visitors.
Cummings Properties: Better Space for Better Business
Cummings Properties maintains more than 1 million square feet of commercial real estate space throughout Woburn. These properties contain suites of all shapes and sizes and can be built out to accommodate almost any need. Contact us today at 781-935-8000 or sales@cummings.com to learn more.