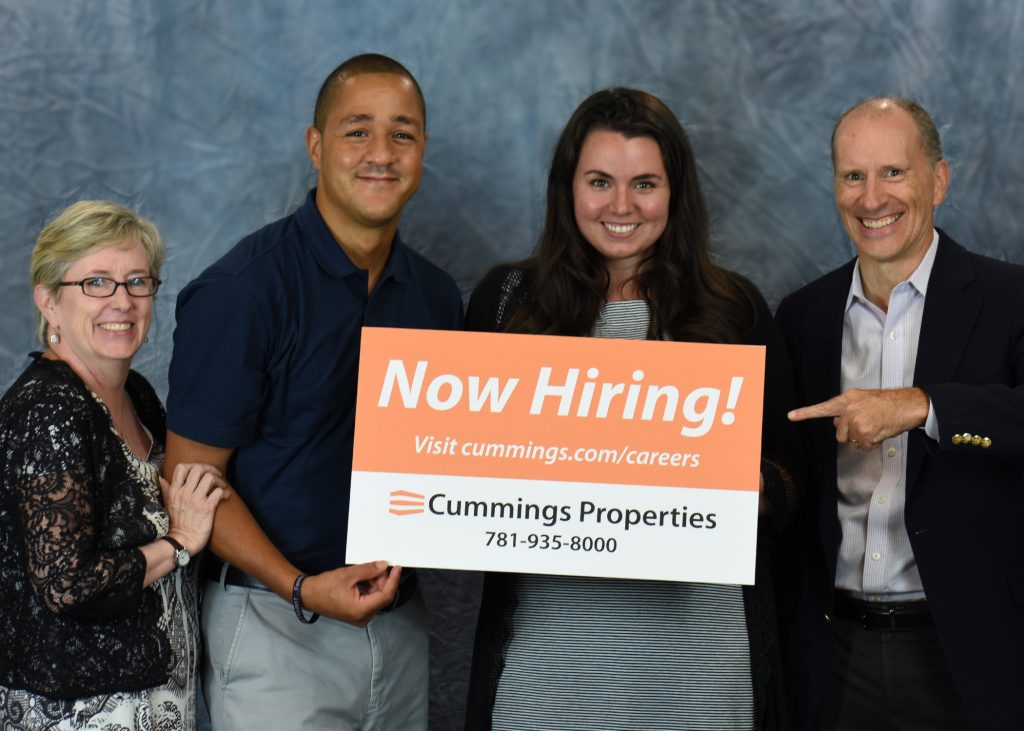 Autumn is a popular time of year to consider a career change. As summer vacation season ends, businesses look to fill gaps in their workforces, and job seekers refocus their efforts to secure meaningful employment.

Commercial real estate developer Cummings Properties knows a thing or two about the hiring process. Together, its diverse in-house team of about 350 colleagues design, build, market, manage, and maintain 11 million square feet of commercial real estate across 11 suburban Boston communities.

Here are several considerations to keep in mind as you explore new professional opportunities.

Corporate Culture
The workplace culture at your new job will set the tone for your experience. Try to get a sense of the company's core values during the interview process. Are teamwork and camaraderie emphasized or is the focus on individual contributions and achievements? Is creative problem solving encouraged or does the firm adhere to time-honored practices? If hired, you will likely spend a great deal of time in this environment, and it is important to consider whether your workstyle is a good fit for the company culture.

The corporate philosophy at Cummings touts collaboration, attention to detail, and initiative as key components of success. In this fast-paced entrepreneurial culture, colleagues are encouraged to be creative and resourceful while working together toward shared goals. The Company is outspoken about its team-oriented, shoot-for-the-stars mindset, which tends to attract hard-working supportive professionals, a great many of whom elect to remain with the organization for multiple decades.

Career Development Opportunities
Prior to accepting any employment offer, you may want to feel out the potential for upward mobility. Is there room to grow within the role? Within the organization? For some office professionals and tradespeople, having the option to explore different career paths or ramp up your responsibilities down the road increases the likelihood of long-term job satisfaction.

Because Cummings emphasizes on-the-job mentoring, motivated colleagues find ample opportunities for professional development. Thanks in part to a tuition reimbursement benefit, staff can easily seek to advance their skills both in and outside the workplace.

Cummings also believes strongly in promoting from within. A departure or promotion will often spark a chain reaction of internal advancement. Colleagues need not, however, wait for a better job to open up in order to rise. Those who develop their skill sets and leverage them to the organization's benefit are rewarded, and new roles are regularly created to recognize the progress of high-performing team members.

Compensation and Benefits
Compensation will likely play a key role in the consideration of any new job offer. But be sure to look beyond the hourly rate or annual salary, as benefits can go a long way to increase one's total compensation package. It makes sense to inquire about health insurance rates, dental coverage, and family plan options—and to determine to what extent those rates are employer subsidized. Paid time off, retirement savings plans, and bonus opportunities might also enter into the hiring conversation.

Cummings is committed to offering competitive pay and benefits. Construction industry professionals in particular appreciate the unusually comprehensive benefits package, which includes attractive items like a 401(k) plan with a generous Company match and employer-subsidized medical, dental, disability, life, and vision insurance plan options. Colleagues also appreciate having regular opportunities to earn meaningful bonuses and overtime pay as well as paid holiday, vacation, sick, and personal time.

Commute
How much time will transit add to your workday? Will you be battling Boston traffic and paying for parking? Travel time has a direct impact on work/life balance, and knowing just how much of each day (and paycheck) will be sacrificed to your commute can help you make an informed decision.

Its highway-accessible suburban locations make Cummings a convenient ride from most anywhere in greater Boston, the MetroWest, Merrimack Valley, and Southern New Hampshire. Colleagues who travel between various properties throughout the day appreciate their free on-site parking, amenity-rich surrounds, and proximity to major roadways and interstates.

Cummings' Woburn headquarters is situated at the junction of I-95 and I-93, just 10 minutes from Cambridge and downtown Boston. Ample free parking makes this location a breeze for drivers, and those traveling by public transit value the on-site MBTA bus service and commuter rail at the nearby Anderson Regional Transportation Center. Its central Washington Street location also offers easy access to supermarkets, healthcare providers, and the newly constructed Woburn Village shopping center, making midweek errands a snap to complete.

North Shore residents enjoy a seamless commute to Cummings' Beverly hub, which is just off Route 128 and Routes 1 and 1A. The award-winning Cummings Center office and research park houses restaurants, medical practices, childcare facilities, and hundreds of other time-saving on-site amenities. With plenty of free covered and uncovered parking, and nearby MBTA commuter rail and bus service, Cummings Center is a convenient workplace destination for commuters from all parts.

Community Involvement
Consider how an organization's values might affect your long-term job satisfaction. Is the company making a positive impact on the communities it serves? Is it known and respected locally? Working for a mission-based organization, for example, can be a very rewarding experience.

The Cummings organization (made up of commercial real estate firm Cummings Properties and $3 billion private foundation Cummings Foundation) has garnered positive acclaim on a national level for its substantial investment in local communities. Through major philanthropic initiatives, Cummings annually donates more than $25 million to greater Boston charities, and it has contributed more than $320 million to Massachusetts nonprofits to date. Because its for-profit commercial real estate arm helps fund its nonprofit philanthropic arm, colleagues throughout the organization reap the gratification of working for the greater good.

Cummings colleagues also enjoy the unique opportunity to play a hands-on role in its charitable giving. Many serve as Cummings Foundation volunteers, selecting a majority share of the nonprofits to be awarded $100,000 – $500,000 during each year's grant cycle. And through the much loved Cummings Community Giving program, colleagues are annually invited to direct a $1,000 donation from Cummings Properties to the local charity of their choosing.

Come Aboard
Cummings is currently seeking talented professionals to join its team. If you are looking for an exciting new opportunity with an exceptionally stable employer, check out our open construction and office positions in Beverly and Woburn.