by Ada Louise Huxtable
Beverly, Mass.-They call it The Shoe. It is the United Shoe Machinery plant, a pioneering, reinforced concrete structure built in 1903-1906 that was the largest building of its type in the world until 1937. With additions, its 34 acres of floor space in three 60-foot-wide wings eventually reached a quarter of a mile in length.
The Shoe dominated life and labor in this historic community and its neighboring towns for more than half a century, practicing a benign economic paternalism behind maximum security fences. Its cathedral-size spaces were devoted to the manufacture of the equipment used to make the shoes that were the sustaining industry of this part of New England until antitrust laws forced the breakup of the company in the 1970s. After the plant closed, it became a notorious white elephant, of interest only to architectural historians who ranked it at the top of this country's significant industrial landmarks; to everyone else it was a monumental blot on the landscape, deserted except for a few artisans and token small businesses. In 1995, one of its cavernous interiors was used to film "The Crucible."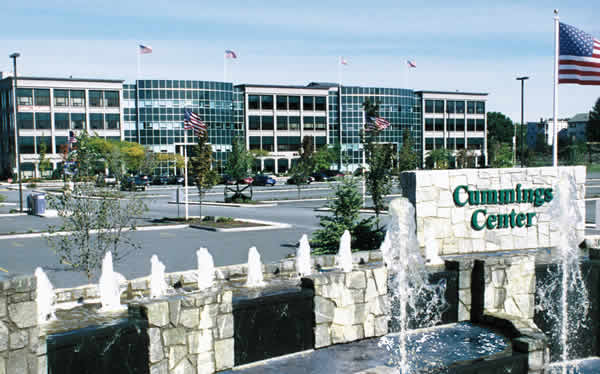 I have been in love with The Shoe since the 1950s, when I discovered the building and its significance while doing research on the history of reinforced concrete construction. I learned that The Shoe was the work of an engineer, Ernest L. Ransome, who devised and patented a way of embedding twisted square iron (later steel) rods in concrete to create a monolithic building material of remarkable toughness and revolutionary possibilities, as so much of the subsequent architecture of the 20th century has proved.

At a time when the press was filled with stories of the collaspe of experimental concrete buildings-even professionals were skeptical of Ransome's advances-The Shoe was a daring design. It featured cast-in-place reinforced concrete so strong that a minimal frame could be filled with windows of unprecedented size-here glass is 85% of the wall area- for the kind of curtain-wall construction that revolutionized building in our time. Its earliest use was for the "daylight" factories so highly praised for the humane and hygienic effects of their light and air. By 1911, Ransome had patented and incorporated precast elements as "the Ransome system of unit construction."
The Shoe was, and is, the single most important and generally unrecognized, concrete landmark in this country, predating the Detroit auto factories by the engineer Albert Kahn that have been widely credited with the structural and engineering innovations that actually appeared here first.

The Shoe is a building of outstanding utilitarian beauty. Its stunning glass-walled simplicity, the pleasing proportions based on its structural system, foreshadow the later modular designs of Mies van der Rohe and one of the basic aesthetic principles of modernism-the direct relationship of structure to style. I have watched it anxiously on my trips to New England, always expecting its demolition by the dubious forces of progress for another lookalike mall or condominium complex. Each time I find it, I am filled with relief. The Ransome system is still intact. And so is the building, thanks to an imaginative and determined entrepreneur, William Cummings of Cummings Properties of Woburn, Mass., which bought the abandoned plant for $500,000 (considerably less than $1 a square foot) in 1996.

The Shoe is now the Cummings Center, saved, restored and transformed, shrewdly and sympathetically, into nearly 1.4 million square feet of handsome commercial space for business and industry. The new Shoe- it will always be the Shoe to locals- has been upgraded from blue to white-collar and recast as a "business park" on 80 landscaped acres that will include a health club and community facilities. Currently, more than 50% of the space is rented to a variety of enterprises, from high-tech industries and research-and-development firms (including bio-research laboratories that make artificial skin for surgical use) to a wide range of consumer services. There is even a well-designed small church. Banks, lawyers, accountants, graphics and design businesses co-exist with small creative companies. In the once desolate interior, the universal bagel shop now stands.

Because the risk-reward factor of this conversion was enormous, it was no undertaking for the fainthearted. Mr. Cummings has an appetite for challenges. A successful operator of renovated old properties, he has demonstrated a kind of vision and investment savvy conspicuously absent among the owners of similar structures, where serious problems of age, size and condition stand in the way of profitable reuse. This is no leveraged deal where the banks take the gamble, making the project fail- safe for the developer; it would have taken a very unusual bank to provide funds for such an unconventional commitment. All the money, $30 million when the job is done- is Cummings Properties' own, invested as capital improvement. The project also took something else not found in most real estate circles- a genuine understanding and appreciation of the building's architectural and structural features, in no way diminished by an astute evaluation of the commercial potential.

The risk-reward calculation naturally affected the restoration; the outlay had to be measured against estimates of success and the income that could be generated; in this case, a more than normally speculative equation. As refuse and massive chunks of concrete were removed, The Shoe looked like an archeological dig.

Leaks and breaks had flooded the building, requiring a new roof and extensive wall repairs. Turn-of-the-century utilities were replaced with new gas and water lines, heating, ventilating, electrical, and telecommunication systems. The structure was brought up to today's fire and building codes, with sprinklers, alarms and exits for four miles of corridors. There was a serious problem of residual industrial pollution to be dealt with. Every one of the huge windows was broken; Cummings has manufactured 2,000 new ones in a shop of its own installed in one of the building's covered courts. Because the original windows were so oversized, a cost compromise was made: Except for the most conspicuous facades, the new windows have opaque top spandrels of pebble aggregate instead of glass. By making these panels darker than the surrounding walls, the visual effect of a full-size window is kept. More than a mile of badly spalled exterior walls that had not been maintained for decades has been refaced with a concrete stain close to the original natural concrete color.

All of these were aesthetic was well as practical decisions, in which Mr. Cummings, a hands-on detail man, and a senior vice president Michael H. Pascavage, participated with the project architect, Bruce Oveson. To advertise The Shoe's upscale transformation, two new, curved glass facades have been inserted between the original wings on the main front to create a "corporate style" entrance; the contemporary glass and metal curtain wall to the old building. A custom design of more finesse would have been prohibitively expensive; this solution achieves its purpose. Corporate style also seems to favor creeping green carpet, fake plants, and glitzy elevators over the clean architectural interiors that have made the conversion so strikingly handsome. It is best when simply left alone.

Throughout the process, Beverly's mayor, William Scanlon, marshaled essential political and economic support.. In addition to the city's offer to defer full taxes on the property, an "abandoned building" tax deduction was available from Massachusetts for renovation of old buildings not more than 10% occupied. The project would not have gone ahead without the Massachusetts legislation that aids the cleanup and reuse of contaminated sites; under this "Brownfields Iniatives" law, old pollutants can be removed with the guarantee of no future lawsuits. Cummings Properties signed this agreement with Massachusetts before taking title to the land.

In the end, there were small losses and enormous gains. For The Shoe it has been a miraculous rebirth. For those who prize an architecture still invisible to many and treated as expendable by most, this is more than a success story; it is a dream come true.